Writing Color
You have something to write. You are writing professionally; a book, an article, a description, even an essay.
So – here's your conundrum. Black…and…white.
That's what you have to start with – and if you want the best outcome, that's what you'll stick with. Black and white.
Black Text. White Screen.
That is the basis of written language; it's easiest to read for the longest time, it's easiest to scan, and it really is easiest to write. (Trust me, I've tried typing up sections in pretty colored text, and it gives me a headache.)
But life, on the other hand, is not black and white. Even for people who are color blind, there is so much more of a tapestry of texture, scent, sound and variable. In text, you don't even have the option of providing gray relief!
Well, let's be honest. You probably will add graphics at some point. Maybe not for long books or homework projects, but magazine articles, blog posts, even Facebook topics come complete with pictures now.
Really writing well, though, is about shining out without the props and distractions. The greatest gift you have as a writer, is to create a 3D world through 2D, bicolor text.
So here we're dedicating ourselves to learning color. And we're going to do it in ten easy steps.
Exercise 1. Finding Color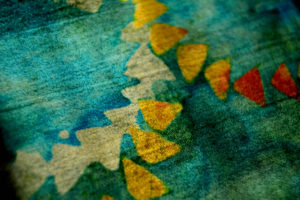 Go find a piece of material. If you're feeling uninspired you can use whatever you have on…but I would really recommend finding something you don't come into contact with daily.
In my case I'm pulling a piece of fabric out of our sewing tub. (I'm used to fabrics, but I don't handle each piece every day!)
Once you have your piece of fabric, hold it. Look at it. Consider it. What sets it apart?
1. Does it have a dominate color? If you cheated and are looking at your jeans, the answer is probably yes.
2. Figure out how many colors your piece has – then list them in order of size, biggest color first.
3. If you picked a muted fabric you might have a pattern, but in different shades of the same color. For a more advanced exercise, try looking up names of different shades, i.e. turquoise and cobalt rather than just blue.
4. Are the colors sharp and clear, or fuzzy and blurred together? (Cottons are usually pretty sharply dyed, while fleeces and flannels, for example, tend to blur the edges of different color borders.)
5. Is the pattern – if there is one – simple or complicated, elegant or wild? This is delving into the realm of shape and texture, but the perceptions of that can have an effect on your colors. A little bit of dark purple in a pink pattern can look girly, while that same shade in large blocks is definitely more masculine.
My description:
"Bright storm blues swirl together in elegant relief, like the tossed depths of a cold northern lake. Greenish teal, grayed swirls, and a few faint traces of turquoise bring the background to life. The foreground is dramatic, like birds and leaves tossed in a wind. An impressionistic design showcases swirling white-grey triangles – elegant geese. Orange triangles, dark to pale, resemble leaves, flying closer to the ground."
Or, if you're tight for space:
"Muted blue background swirls with a brighter turquoise, creating a pleasing effect. Triangles in whitish grey and shades of orange circle prominently in the foreground; overall a piece of simplistic elegance."
Exercise 2. Contrasting Color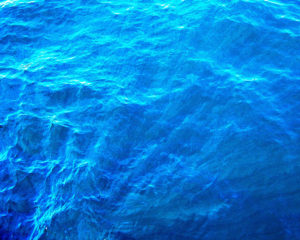 Sometimes the simplest things prove the biggest problems. Having two very strong colors together can prove a depth that is hard to explain.
As an example – I grew up in dry country. No trees. I spent a great deal of time as a child imagining deep forests like the ones I saw in movies, I even wrote about them in very convincing detail. (Don't get me wrong, imagination and research can take you a long, long way.)
On a trip through the Colorado Rockies in the fall, I saw something that changed my view of the forest forever. We were driving through an evergreen grove, and there, hanging in the dense pine needles were drops of pure gold.
It's hard to describe; even having lived in the Rockies for several years now. The "golden drops" are, it turns out, aspen leaves. The aspens turn yellow and the leaves fall. The lightweight aspen leaves tend to get caught in the denser pine needles – groves of which will often grow under and around aspen thickets.
So go find something that is simply, and stunningly, a contrast. Another natural marvel I often consider is the play of light in a pool of water. If you get it at the right angle, the sunlight will splinter down, creating a layer of blues and golds and greens before it hits a darker "bottom."
Black-and-white movies and photography are also good examples of using contrast and balance to create an evocative effect – rather than excessive adjectives.
Please comment if you like! Everyone is more than welcome to post their own versions of these exercises. I will try to leave a little feedback for each post. (I generally clear comments every couple of days!)
Next week's post will be linked here.